Point Clarke, New Home
Cottage Nestled in the Cedars is a Perfect Escape
Just steps away from Lake Huron's beautiful water and sandy shoreline, this cottage was designed for two, a perfect summer home. Awarded the 'Most Outstanding Custom Home under 3,000 sqft' by the Ontario Home Builders Association in 2022.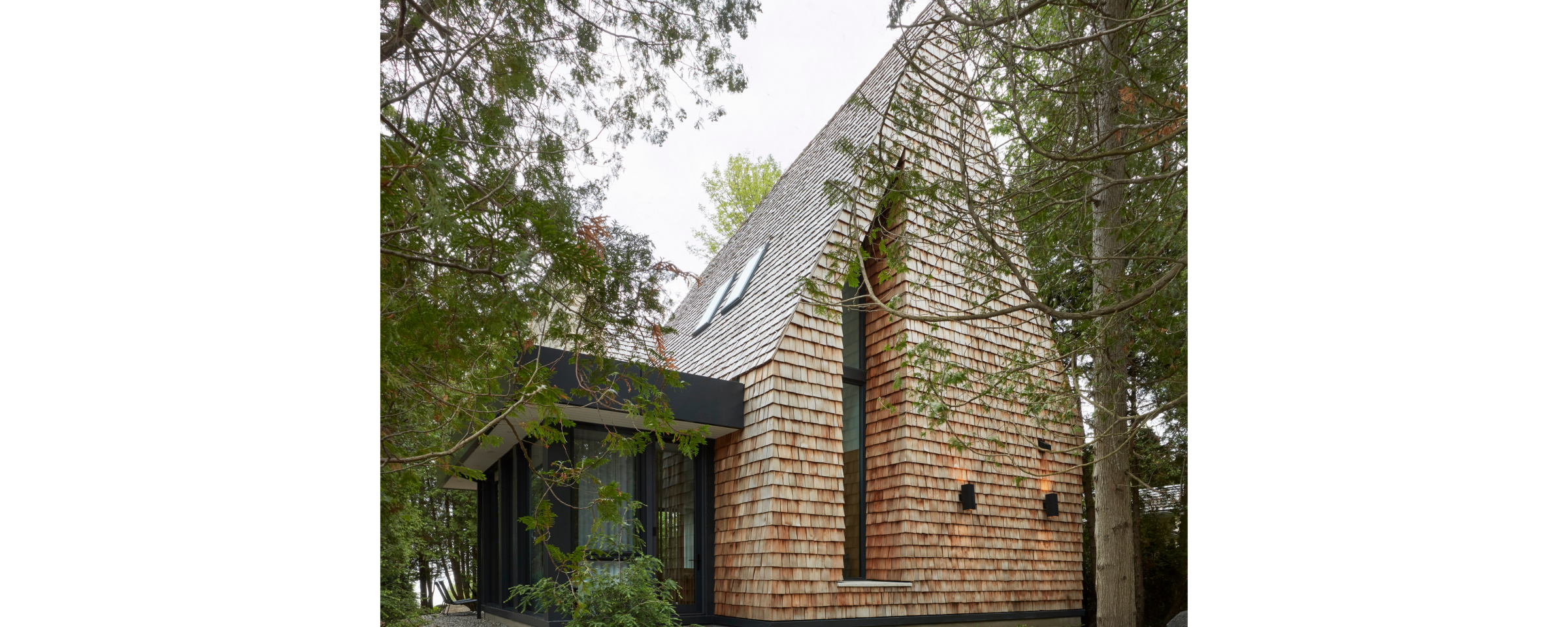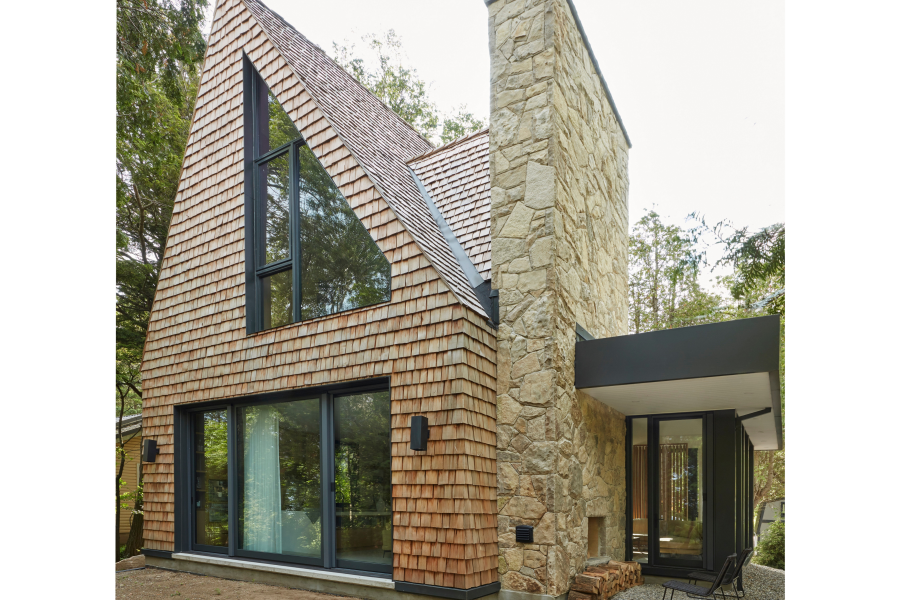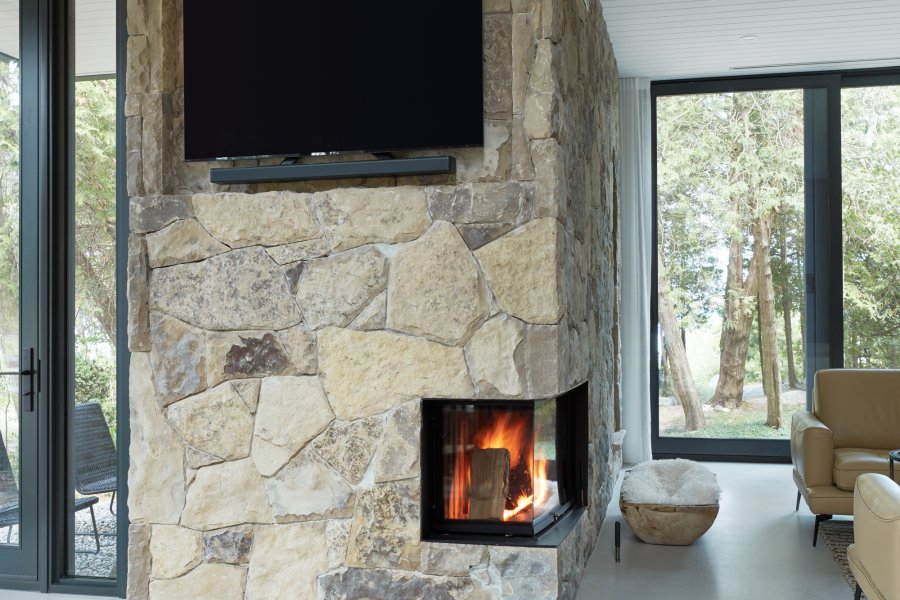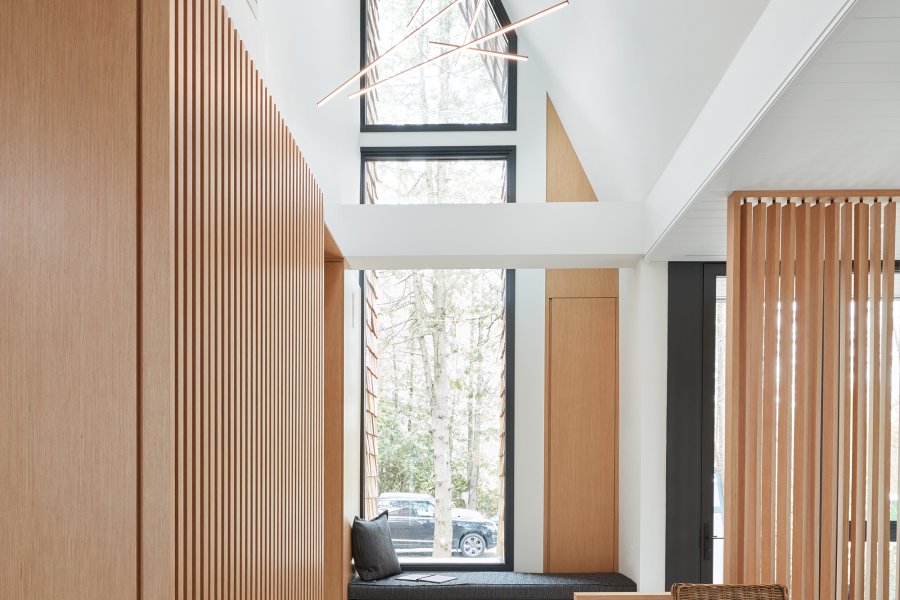 Home's character stands tall above the trees
High-sloped ceilings, open concept design, and smooth panel frameless construction give the cottage a clean modern feel. Built on a narrow infill lot, typical of cottage country, the long narrow lot helped determine the shape. The architectural intent was to create a large pitched roof to house the upper rooms, and this roof would also give the massing a compact feel. The roof ridge twists across the house and makes for dynamic interior rooms and allows for the best use of the largest roof cavities. The exterior materials of natural stone and cedar shakes give the exterior an earthy, natural feel common to the surrounding native cedar tree lot. Design Credit to Setless Architecture.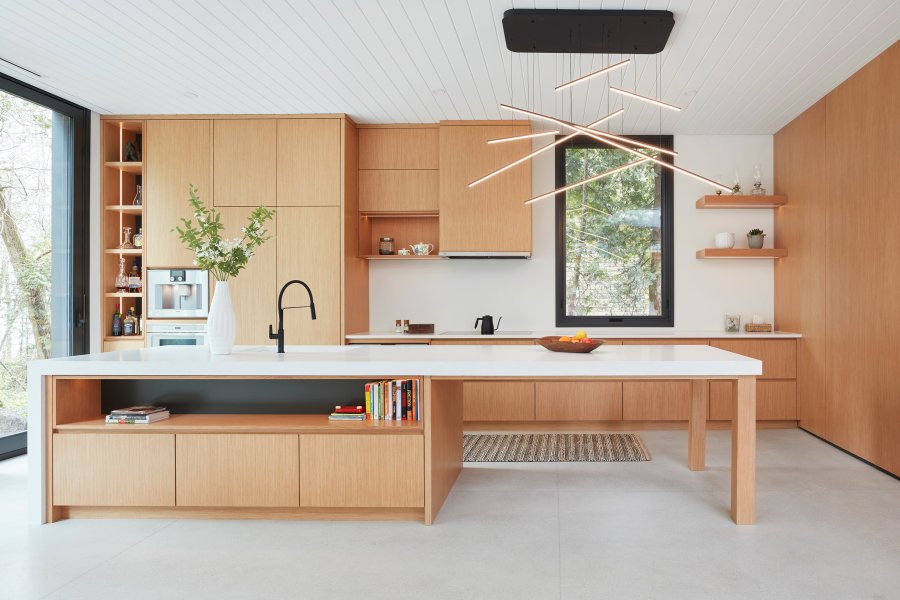 Modern kitchen serves up style and function
Having a great space to prepare food and entertain family and friends at the cottage was very important to the homeowners. This kitchen fits the bill featuring sleek and modern rift white oak cabinets, a large working island with quartz countertops, and stainless steel appliances. The large patio doors open up to the patio and are only steps away from the beach.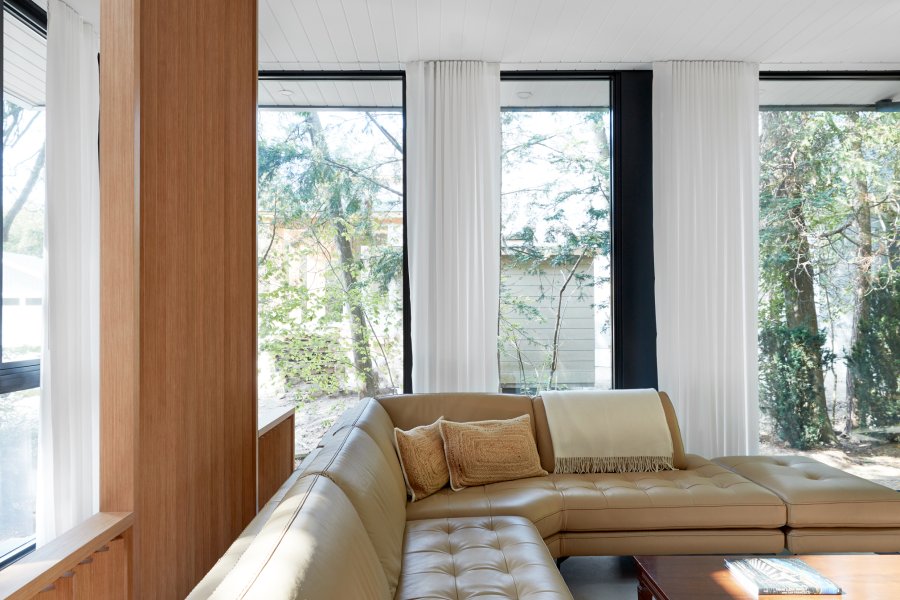 Room to Entertain
Two sitting areas to the left and right of the fireplace provide ample space for relaxation and entertainment. There is an extra bedroom on the second floor for weekend guests. The cottage features high-performing quality windows and a view can be enjoyed from every room to the beautiful cedar forest and lake outside.
Key Design Features
Architectural Millwork

Hidden doors and closets ensure a place for everything and achieve clutter-free living spaces.

Integrated Closets

The master bedroom includes extensive storage behind millwork panels.

Storage

Millwork features pull-out drawers, soft-close hinges and slides, and under-cabinet lighting.
"My wife and I reached out to Slotegraaf first and foremost when preparing to build our new home on Lake Huron. The company reputation noted high quality, and a real focus on custom detail which was key to us. We did not have much time to participate in the build, so it was very important to us to leave such an extensive project and investment in the hands of a team who cared about our home as though it was theirs. The process and the outcome was exactly that! I believe we pushed some creativity and unique building practices into our design, and Slotegraaf not only provided results, but did so with enthusiasm. We now have a very unique home, that not only feels structurally sound, but you can see its quality and strength from just walking by. I'm proud to say that the neighbours were very impressed with the team who built the home. The cleanliness on site was appreciated by the neighbourhood, and the overall passion of the entire team was admirable. Dave accepted our small footprint and unique design with a professional outlook, and the Slotegraaf members that supported our build were not only passionate about our home, but their career and co-workers. Awesome outcome, and I would certainly recommend their services to friends & family! A huge thanks to Aaron who managed the project with heart & was present each step of the way. A big thanks to Lindsay who put together great designs and a masterpiece of complimentary materials. Thanks to Wade, Dan, and Terry for your commitment and wonderful personalities on-site - you guys are the youngest motivated members anyone could ask for! Thank you Pam & Deb for your administrative support. And last but not least to Flo, who navigated the quality each step of the way - you made the final touches a fun experience, and you're a perfect example of Slotegraaf's professional reputation! "

Jordan W. , Point Clark
Keep browsing our project gallery